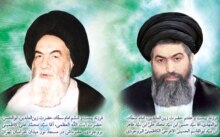 Iran arrests controversial cleric
Sunday, 8 October 2006 -
An Iranian cleric, Mohammed Kazemeini Boroujerdi, has been arrested amid clashes between his supporters and police outside his house in Teheran. Police used tear gas to disperse hundreds of his followers, who had formed a cordon around his residence. In his sermons Mr Boroujerdi advocated a traditional interpretation of Islam which separates religion from politics. He is accused of misinterpreting Islam. However, his supporters see him as a religious leader with spiritual powers.



Outspoken Cleric's Supporters Clash With Police



TEHRAN, October 7, 2006 (RFE/RL) -- Several hundred supporters of an outspoken cleric in Tehran, Ayatollah Kazemeyni Boroujerdi, gathered today in the streets around his house to protest what they described as violation of "freedom of religion." Protesters told Radio Farda that they were trying to prevent the arrest of Boroujerdi by security forces. Boroujerdi advocates the separation of religion from politics. One of his supporters told Radio Farda that during the past two months there have been several attempts to arrest the ayatollah. "[Security forces] took away his daughter and 38 others two months ago, they've freed them but they came this morning to take away [Boroujerdi] but the neighbors didn't give in," the man said. "They came again later to arrest him but his supporters have gathered here and will resist. Thank God, we're many, about 2,000 to 3,000." Iran's ILNA news agency reported that police used tear gas to disperse the protest but protesters resisted by burning tires to counteract the effects of the gas.